Braveaux

Born March 2013, Rhineland, Germany; Imported August 2016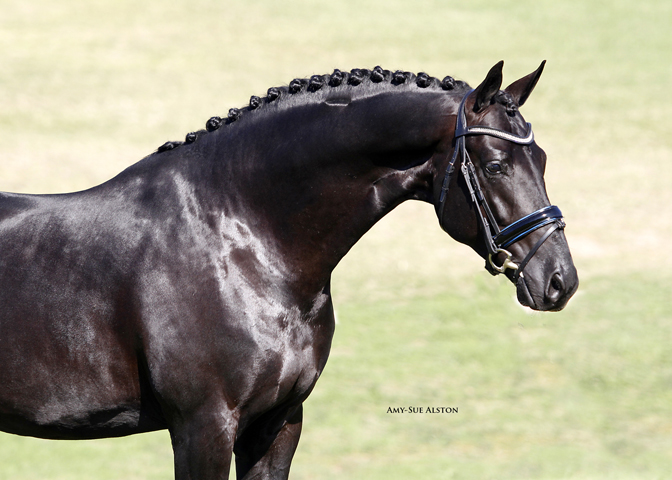 Black, to mature 16.2hh, Licensed Oldenburg & ACE (Elite)
Breeders: Eva & Dr Ulf Möller
Braveaux is an exceptional young stallion - modern, athletic, beautiful & smart he is bred by multi German Young Horse Champion's Eva and Dr Ulf Möller & represents some of the finest bloodlines from Germany & The Netherlands on offer. Throughout his pedigree we see not only champion sires but horses successful in the sport at FEI level - nearly all the male bloodlines having competed at top Grand Prix level themselves.

His sire Bordeaux is successfully competing at international Grand Prix level initially, with Eva Möller and in 2017 with Isabel Freese (representing Norway at the European Championships 2017). Breeders, Eva & Ulf, have retained Braveaux's full brother "Best Friends" & under Eva he was 6th in the 4yo final of the Bundeschampionat 2016 & is again qualified for the 5yo in 2017. Bordeaux and his progeny are characterised by a lot of charm, a modern riding horse type, first-class movement and natural rideability. Bordeaux was the KWPN Licensing and Performance Test winner in 2011 and has already sired many licensed sons, including Licensing Champions, Champion Mares and Bundeschampion & World Young Horse winners and place getters. Many of his progeny have been auction highlights including Biscaya, who sold for $300,000 euro at the Oldenburg Fall Elite auction in 2013.

Braveaux's damsire, Don Primero, was himself the Bundeschampionat 5yo Champion and trained on all the way through to successfully compete Grand Prix with Karin Rehbein. Don Primero sired many successful sport horses and Licensed sons, the most notable of which is Dimaggio. Also on the dam side, we have Sandro Hit, who was World Young Horse Champion & sire of countless successful sport horses, Licensed sons & Elite mares, and German Olympic Team member Rubinstein, both of whom need little explanation as legends of their time.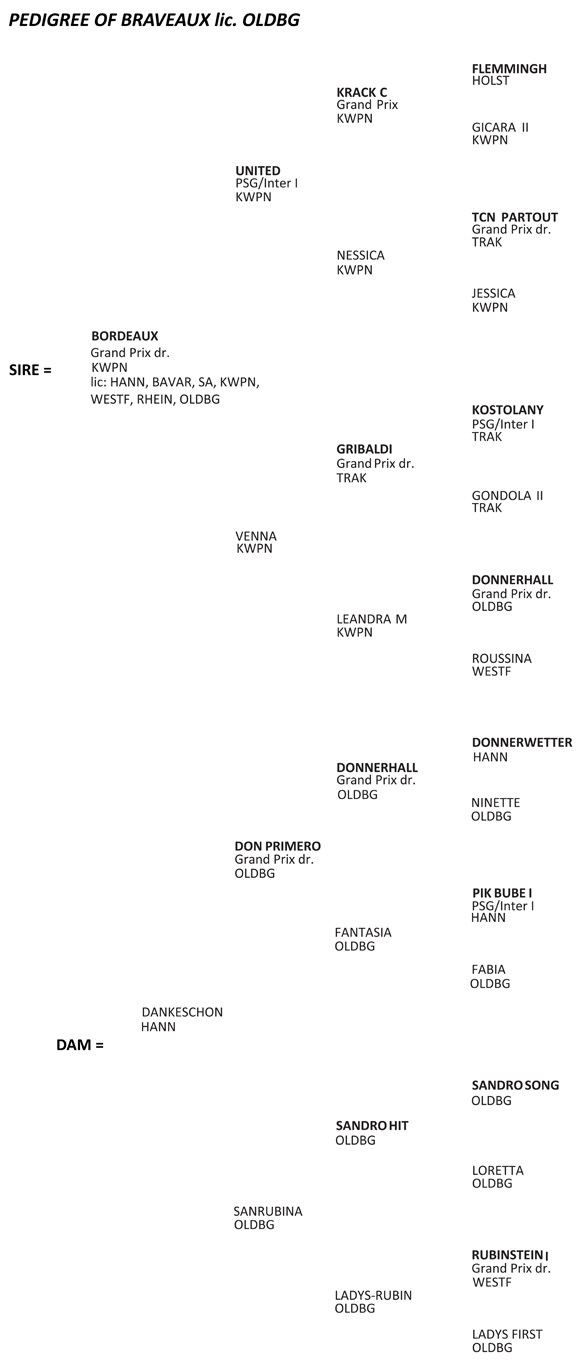 Braveaux began his sport career in early 2017 scoring 8.5-9's in each pace and was sashed Champion 4yo at Brisbane CDI. He is offered at public stud
to a limited book of mares in Spring 2017/Summer 2018.
Braveaux Video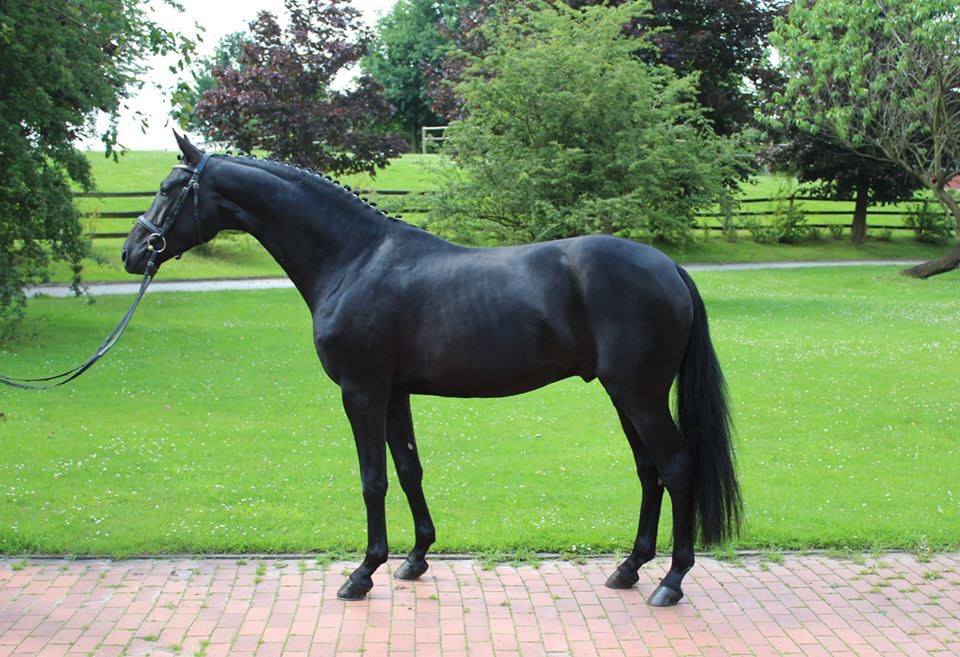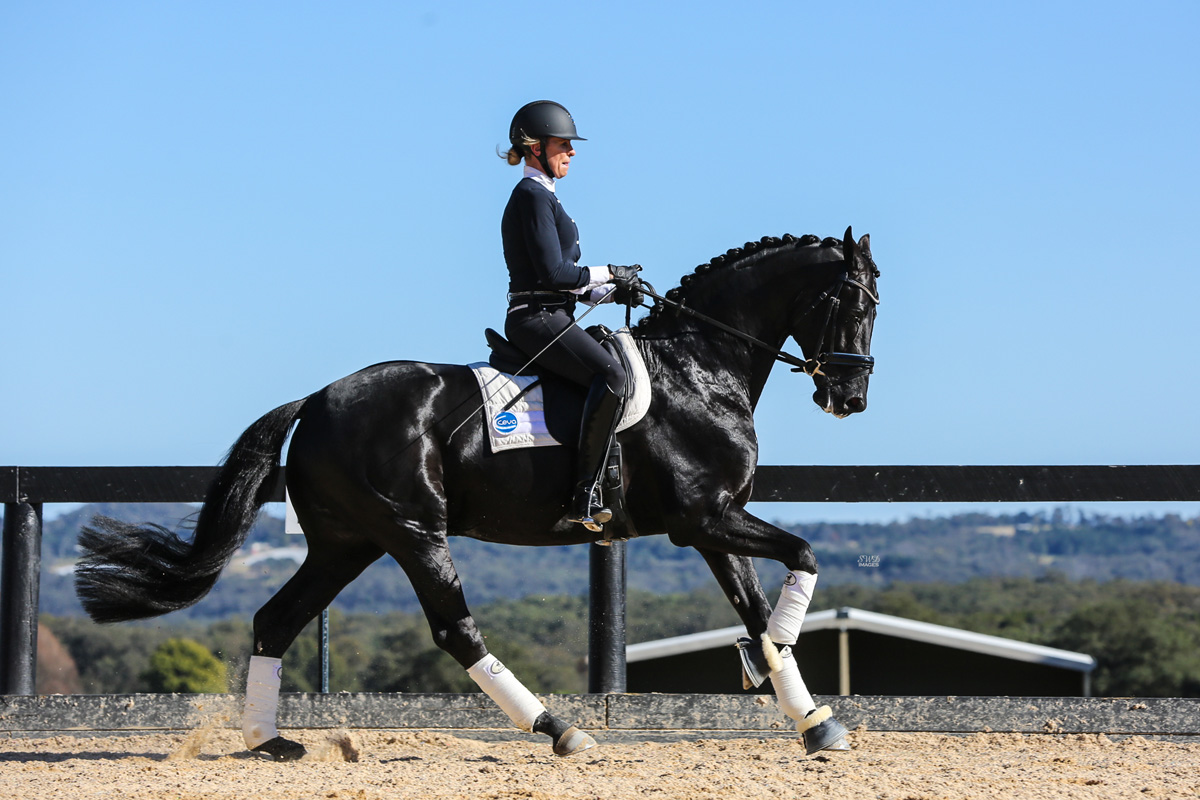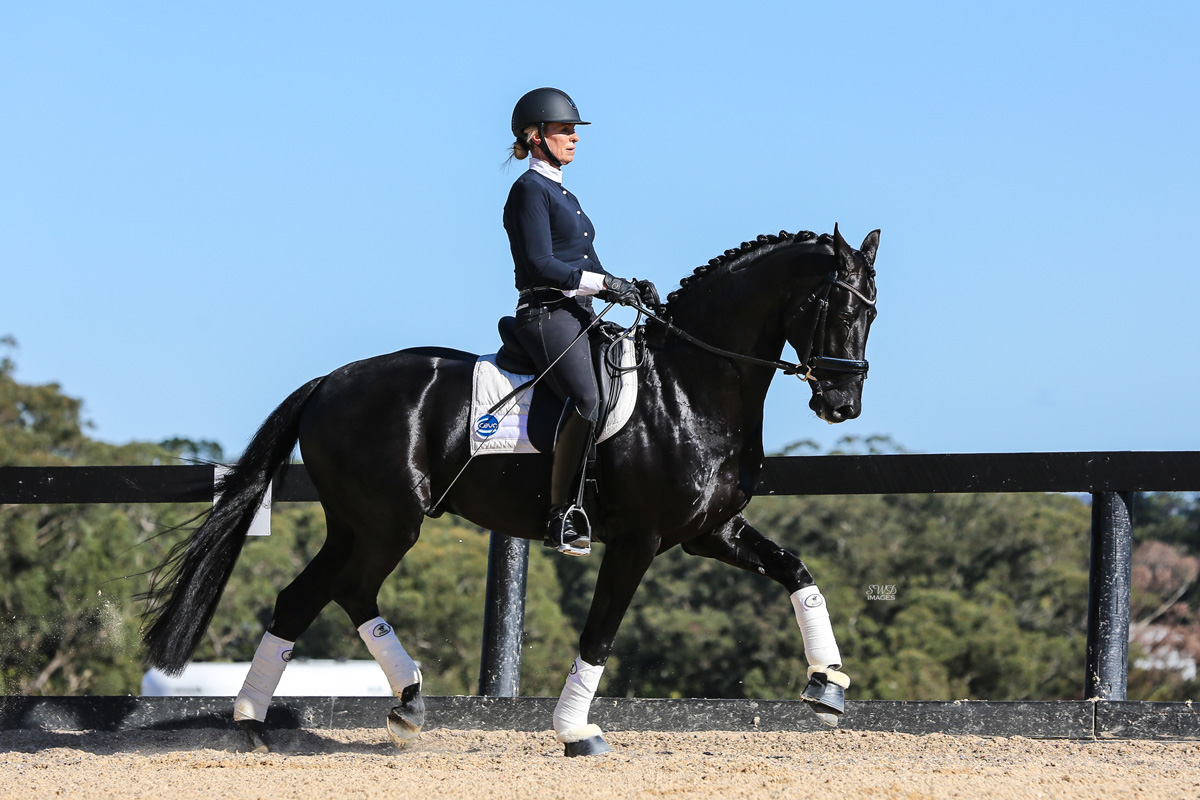 ---
Iresias L

Born May 2013, imported August 2016
Bay, KWPN bred, to mature 17hh
Breeder: Mr H. Lamers (Netherlands)
Iresias L is very nearly a carbon copy of his sire, the European, Olympic & WEG medallist Glocks Johnson!! He has been ridden since 3 years of age by Hans Peter Minderhoud, who has said of him; "His outstanding attitude has made the greatest difference at the highest level. Even if he is almost unable to do something, Johnson will do it for you anyhow" and "When Johnson enters the ring, all people will sit up. He truly is a king!"

As a sire, Johnson seems to walk in the footsteps of his sire Jazz and grandsire Flemmingh. Jazz himself performed at Grand Prix level and for many years has been among world's best dressage sires on the WBFSH Sire Ranking. Through offspring like Krack C and Lingh, also Flemmingh has left his mark on today's breeding of dressage horses. The offspring of Johnson make great impressions on all levels as well. The approved stallion Meggle's Boston (Hendrik Lochthowe) already performs at Grand Prix level, while Bretton Woods (Matthias Alexander Rath) and Boston STH (Denise Nekeman) are close to it and the young offspring of Johnson continue to impress - just think of Handsome O, the champion of the KWPN Stallion Show in 2015.
Dam sire Ferro and his rider Coby van Baalen won team silver at the Olympic Games in 2000 and Ferro has founded his own stallion line in the Netherlands, which has given the stallions Rousseau, Metall, Rhodium and Special D. Like Jazz, Ferro has produced many successful dressage horses. His offspring are characterized by a convincing ability to collect, which is a very important quality for a dressage horse. The damline of Iresias L is a very successful family in itself with his mother's full sister being the dam of the upcoming GP sensation Dream Boy (x Vivaldi, also with Hans Peter in the saddle).
Iresias L has already unequivocally proven his ability in the sport having been crowned Champion of Champions at Dressage With The Stars 2017 (the only 4yo to ever achieve this title) and followed up with Champion 4yo at Sydney CDI 2017.
Iresias L is offered at public stud for the 2017 season. For all enquiries please contact owner Sarah Hanslow, Sansar Eq
uestrian,
sansar@ozemail.com.au or ph: 0438 121 179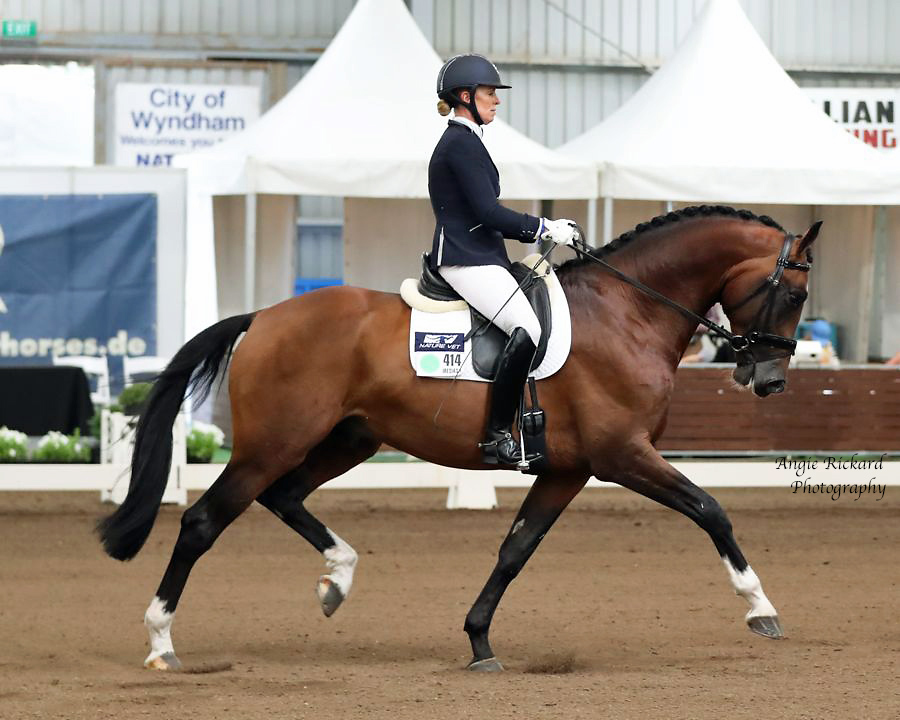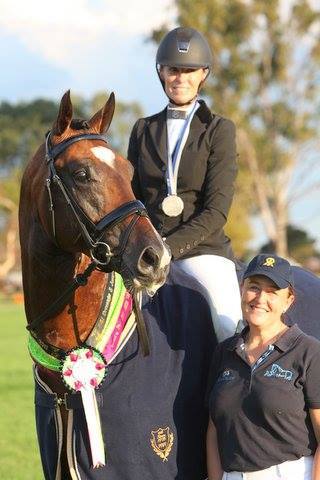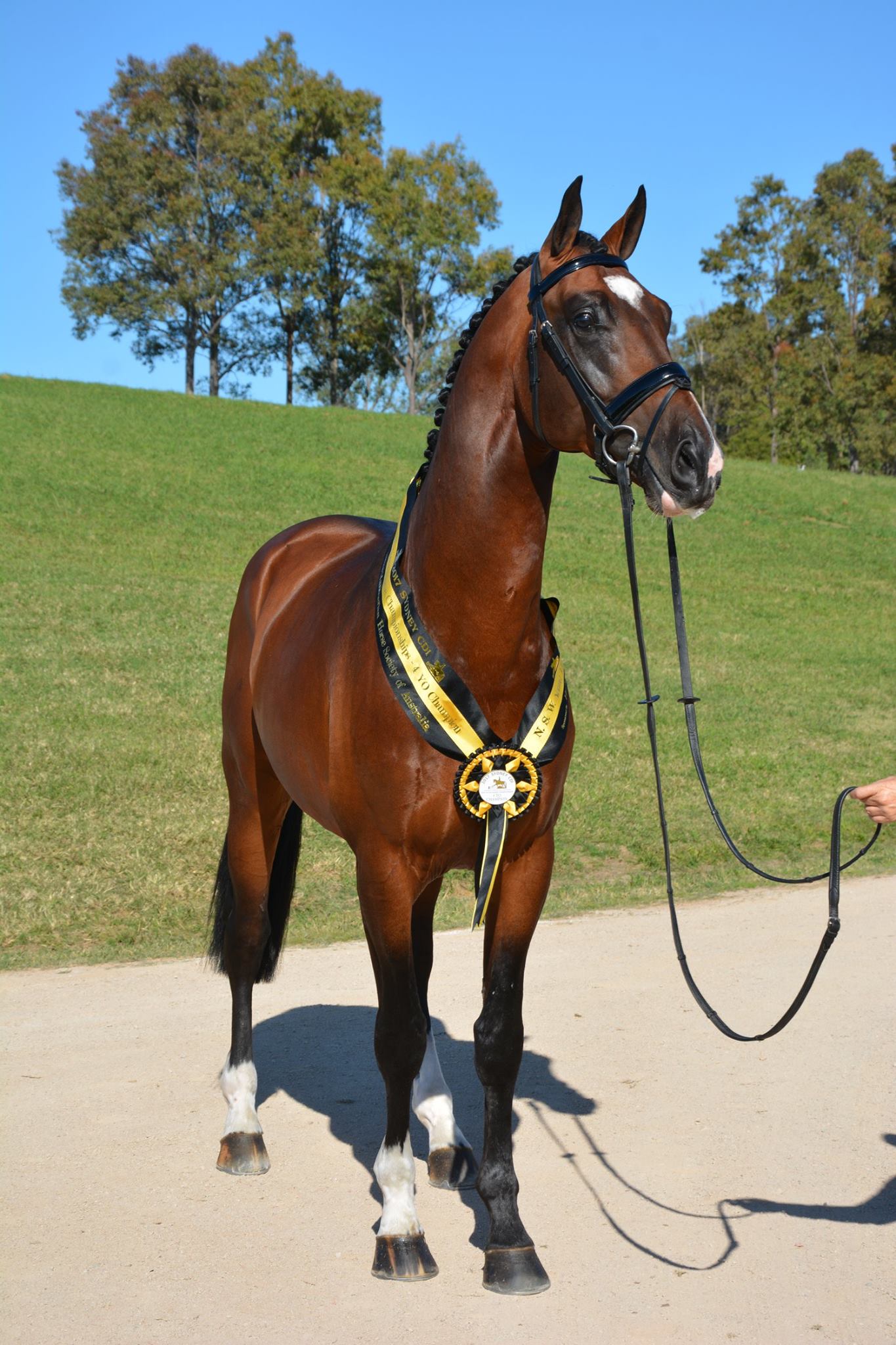 ---
Highland Christmas
2006, imported 2010
Bay, Oldenburg bred, 17hh
Breeders: E & H Stolle
This tall, beautiful son of Hotline was imported to Australia as a 4yo colt but has since been gelded. "Christo" is a fantastic example of modern European breeding with his good looks, long legs and super temperament he has it all! Has competed up to Medium but has all the Small Tour training. His owner, Chloe Jakins, purchased Christo as her first dressage horse and together they are winning Championships at Novice/Elementary.

Sire, Blue Hors Hotline (Hofrat x De Niro), has proven his worth both as a breeding stallion and in international dressage as a member of the Danish Team. His offsping are desired for their rideability and successful in the sport all the way to Grand Prix.
Dam sire Sandro Hit is no stranger to Australian dressage with many of our most successful horses carrying his blood - Sancette, Sandro Boy, Sonata Hit
, Stedinger and so on.
Highland Christmas offers breeders of both dressage & show horses the chance to incorporate good looks, great paces & super temperament into their foals. Available by frozen semen only, enquiries welcome.