13.12.
09
NV Wallmeyer Victorian State Reserve Champion Advanced Horse! After much deliberation Gina decided Koschel was fit enough to make the journey to the "Dressage Festival" at Werribee & we are delighted with his efforts - Reserve Champion to Mary Hanna's Shiraz Black who had won the National Championship - a fantastic result for Koschel who is certainly not yet at full fitness but well on the way to being back to his best. Click
here
for a lovely photo by Julie Wilson of Koschel & Gina during their test.
6.12.09

Smash Hit has had a very successful weekend winning 2 Novice Tests at Central Coast Dressage on Sunday, scoring a phenomenal 75.152% in the 2B!!! The day before Sandy placed 2nd, in the 2A with 69.074%, in a tough field at Clarendon, beaten only by Rachel Sanna's Chatham Park Albert. A super effort - he is well & truly proving he's not just a pretty face!!! Click
here
for an awesome canter stride (photo taken by David Shoobridge).
Gina also debuted Hallo Special on the weekend. This beautful young mare owned by Petria Briggs is by Quando Quando & is, as her name suggests, something quite special. A little unsettled in her first test she went on to post 71.515% in her second test, the 2B.
Big congrats to Emma also who won the Prelim Pony Test on Jannine Rands Makaula Holiday & placed 2nd in the Novice Pony class. Em then saddled up her own TB gelding Take Two, placing 2nd with 68.636% in the 1D & finished 9th in the tough 2B class. Emma has done all the training herself on these 2 horse so well done Em & keep up the good work!!
23.11.09

Nature Vet Direct is an exciting new venture from this great Company who have grown through experience, research & innovation to become a leader in enhancing animal health & performance around the world. They have been a generous sponsor of equestrian sport in this country for many years & now they continue to "give back" to the equestrian community through their innovative "Rebate System". Check out my sponsored rider diaries here:
NV Diary
& feel free to leave me comments or queries.
By the way, when you see my horses entered in comps as "
NV
so & so" - the NV stands for Nature Vet. My way of thanking them for being such an invaluable support over the years!

7.11.09

Lulu's baby is here! Born just before midnight on 6.11.09 is Jannine Rands new colt from her Royal Show winning & NSW R/Up Large Galloway of the Year (ridden by Gina), Commands Attention. By Regal Promise he is bay/brown with 3 socks & a star. Mum & baby (yet to be named) are doing well - Grandma is skipping around on a high, too excited to have slept all night. Congrats Lu.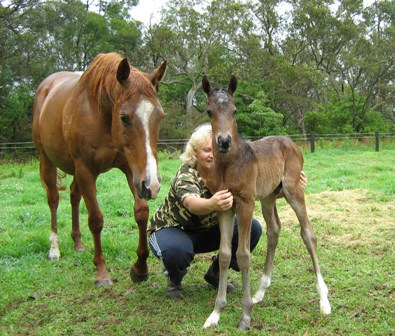 Mum, bub & Aunty Lisa






31.10.09
Despite struggling with his allergies NV Wallmeyer has finished 3rd in the Advanced Freestyle at the National Dressage Championships at SIEC. Unfortunately, Koschel was not at his brilliant best but he mustered every bit of energy he had & pulled out a great perfomance so we are very proud of him for trying so hard. Immediately after the class we had the vet attend to him & it was decided that it would be in Koschel's best interest to scratch from the Advanced comp. the next day. We will give him another short break & hope to make the trip to the Victorian Championships in mid December.
25.10.09
Smash Hit today won the Novice 2D at the Somersby Equestrian Club Championships. Although a little distracted throughout the test "Sandy" & Gina showed that they are consolidating their partnership to score 67.714%. Sandy will have a week off now whilst Gina is at Nationals & then return to Amberwood Park next week to continue his training.
18.10.09
NSW HOY - Chloe Jakins is Runner-Up Adult Rider of the Year riding Oakridge Edition who also made top ten Large Hack. Well done Chloe! Charlton, ridden by Amanda Jakins made top ten Small Hack.
12.10.09
Congratulations to Amanda & David Shoobridge of Revelwood Warmblood Stud on the birth of their beautiful daughter Annabel!!!
6.9.09
NV Wallmeyer is NSW Advanced Reserve Champion. Following his effort yesterday Koschel finished the weekend by winning the 5B & placing 2nd in the 5C to finish up overall Reserve Champion behind Gitane & Jenny Geherke from Qld.


5.9.09
NV Wallmeyer NSW Advanced Freestyle Champion!!! Riding to an INXS medley Gina & Koschel have won the Capricorn Advanced Freestyle at the NSW Dressage Championships in Tamworth. Scoring 72% Koschel channelled his inner "Rock God" & won the class in the big indor arena at AELEC.